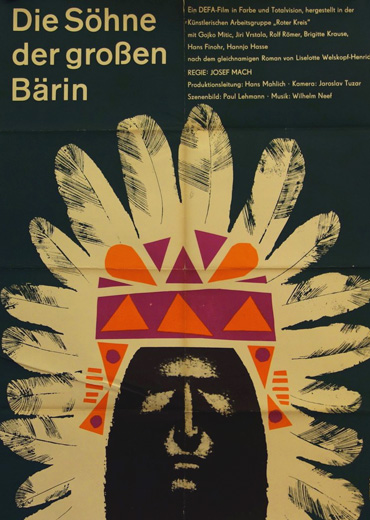 Eastern European Movies Adventure / East Germany The Sons of Great Bear
1966
The Sons of Great Bear
Original title
Die Söhne der großen Bärin
The Sons of Great Bear with English Russian subtitles is a 1966 East German Western film, directed by the Czechoslovak filmmaker Josef Mach. The first DEFA "western" establishing Gojko Mitić's stardom portraying Native Americans.
Although the Indians were assured their lands adjacent to the Black Hills by contract, the Whites want to expel them. Meanwhile, gold has been discovered there and the unscrupulous settler, Red Fox, demands of Mattotaupa, chief of the Bears Clan belonging to the Dakota tribe, to reveal to him the location of a cave with gold deposits. Mattotaupa refuses and is stabbed to death by Red Fox in the presence of his son Tokei-ihto. Lieutenant Roach orders Tokei-ihto to Fort Smith in order to negotiate. The son of the slain chief suspects that the Whites are planning an ambush, a fear that is confirmed when he encounters Red Fox there. Tokei-ihto refuses to move to a reservation in an infertile area with his tribe and is incarcerated. When the Dakota Indians have been defeated and resettled, he is released. Tokei-ihto learns of the murder of the senior chief Tashunka-witko. Tokei-ihto now wants to fulfill his legacy, escaping with the subgroup of his tribe to the fertile areas beyond the Missouri in Canada. While the members of the Bears Clan cross the border, Tokei-ihto encounters Red Fox, his father's murderer.
Watch online The Sons of Great Bear with English Russian subtitles
Original Language
Russian Dubbing
Download movie & subs
Only for members with one month access or higher
The Sons of Great Bear (Die Söhne der großen Bärin) with English subtitles
On EasternEuropeanMovies.com you can watch The Sons of Great Bear with English subtitles online. On our site contains the best
Eastern European adventure movies
in English. All
Eastern European films in English
you can watch online on your mobiles (iOs or Android) and on tablets.
advertising
Watch Online
Soviet & Russian
Movies
with English, Russian, Spanish, French, Portuguese
and other Subs