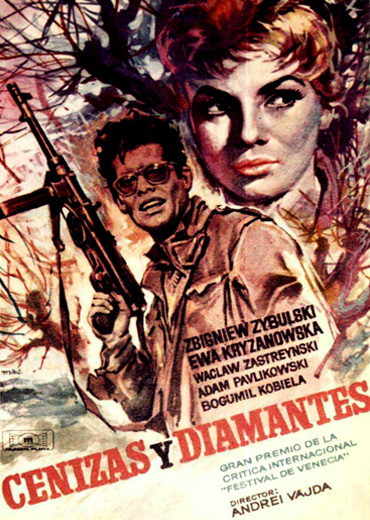 Eastern European Movies Romance / Drama / War Movies / Poland Ashes and Diamonds
1958
Ashes and Diamonds
Original title
Popiól i diament
Country:

Poland

IMDB:

7.9

Views:

8 874

Subs:
Country:

Poland

IMDB:

7.9

Views:

8 874

Subs:
Ashes and Diamonds with English Russian Polish French Spanish Italian Romanian Czech Portuguese Turkish Arabic subtitles is a 1958 Polish film directed by Andrzej Wajda, based on the 1948 novel by Polish writer Jerzy Andrzejewski. It completed Wajda's war films trilogy, following A Generation (1954) and Kanal (1956). The title comes from a 19th-century poem by Cyprian Norwid and references the manner in which diamonds are formed from heat and pressure acting upon coal.
Ashes and Diamonds is considered by film critics to be one of the great masterpieces of Polish cinema and arguably the finest Polish realist film. Martin Scorsese and Francis Ford Coppola have cited the film as one of their favourites. A critics' poll by the Village Voice called it the 86th best film of all time.
Maciek and Andrzej, two home army fighters, were paired and ordered to kill an incoming communist party cadre. At the hotel where their target's welcoming party is being held. Maciek meets the barmaid Krystyna and the two have a brief, passionate affair, before he is pulled away from this fleeting happiness into his deadly mission.
Watch online Ashes and Diamonds with English Russian Polish French Spanish Italian Romanian Czech Portuguese Turkish Arabic subtitles
Download movie & subs
Only for members with one month access or higher
The movie
is not available
Sorry about that
advertising
Watch Online
Soviet & Russian
Movies
with English, Russian, Spanish, French, Portuguese
and other Subs