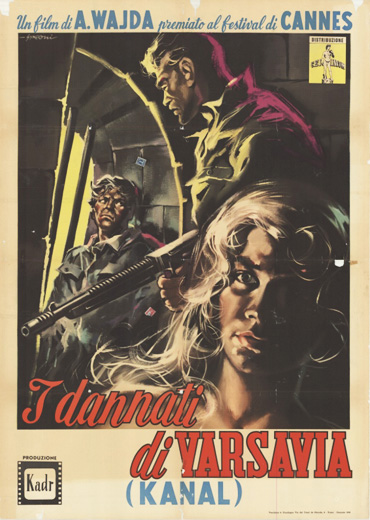 Eastern European Movies Drama / War Movies / Poland Kanal
1956
Kanal
Country:

Poland

IMDB:

7.8

Views:

6 626

Subs:
Country:

Poland

IMDB:

7.8

Views:

6 626

Subs:
Kanal with English Russian French Spanish Romanian Portuguese Turkish Arabic subtitles is a 1956 Polish film directed by Andrzej Wajda. It was the first film made about the 1944 Warsaw Uprising, telling the story of a company of Home Army resistance fighters escaping the Nazi onslaught through the city's sewers. Kanał is the second film of Wajda's War Trilogy, preceded by A Generation and followed by Ashes and Diamonds.
The film was the winner of the Special Jury Award at the 1957 Cannes Film Festival.
September, 1944. It's the 56th day of Warsaw's uprising against the Nazis. The third Platoon of the Resistance is down to 43 heroic men and women, and they're penned in. After a last day of fighting, and of good-byes to family, to love making, and to music, a handful of doomed survivors wade into the city's underground sewers in hopes of escape. Their valor is tested a final time.
Watch online Kanal with English Russian French Spanish Romanian Portuguese Turkish Arabic subtitles
Restored edition
Original Language
Russian Dubbing
Download movie & subs
Only for members with one month access or higher
advertising
Watch Online
Soviet & Russian
Movies
with English, Russian, Spanish, French, Portuguese
and other Subs